CIPP-DESIGN - for thickness design of CIPP Liners
CIPP-DESIGN
Calculates CIPP liner thickness for non-pressure pipes
For sewers, storms, culverts and other gravity pipes
Follows ASTM F1216-16 Appendix X1 Design Considerations equations
Does Partially and Fully Deteriorated pipe conditions
Straightforward, easy to use with diagram showing pipe size, depth and water table parameters
Report options - Comprehensive Summary Page or full calculation details
Has built in User Guide with more detail about menu selections and design entries
Provides 10 live load menu choices including option for user entered live load pressure at pipe depth
Has options for pre-lining versus post-lining flow comparisons
Has option to show liner sample test requirements
World-wide user base - contractors, engineering firms, municipalities, manufacturers
Price: $495
(Put on multiple computers within your organization. No restrictions. No complications. No additional costs.)
Other information about CIPP-DESIGN
- Allows design by either F1216-16 or F1216-07a - menu choice
- Compares pre-lining vs post-lining flow for liner design thickness or any entered liner thickness. Or turn off comparison.
- Available in US or metric units
- Available for MS Windows Excel or MS Mac Excel**
- Does not require a software install process
- Does not used macros
USE ON MULTIPLE COMPUTERS
Put CIPP-DESIGN on any or all of your organizations computers (desktops & laptops) for no additional cost
- No restrictions on where or how you can run your CIPP-DESIGN.
- Keeps it simple - Protects your work - Saves you time - Keeps your costs down.
HOW IT WORKS
CIPP-DESIGN is a custom MS Excel application. It uses the familiar MS Excel
interface, navigation, save and print commands.
- Protected against accidental changes or alterations
- Lets you make copies and put them in your files just like any other Excel workbook
- Lets you keep your designs in job files for quick and logical access
- Lets you copy an existing design and change only the parameters you need to change - saves time
- Make PDFs of design print outs just as you would for any other Excel sheet
- Purchaser's organization name is embedded in CIPP-DESIGN
HOW TO PURCHASE
Send us an email, Email Trenchless Design or give us a call, 905-468-8129.
1. Specify your Organization Name to go on your CIPP-DESIGN.
2. Specify whether US units or Metric Units
3. Specify whether of Windows Excel or Mac Excel**.
We will come back to you by email or phone to confirm requirments, arrange delivery and payment.
Credit card payment via PayPal invoice available.
Delivery to you by email in typically 24-48 hours
Price includes a telephone run through after delivery - if needed.

** The only difference between the Windows and Mac versions is in the graphics and page formatting. Either version will run in either platform without affecting the calculations. However screen appearance, print appearance and some formatting will not be optimized.
HOW CIPP-DESIGN LOOKS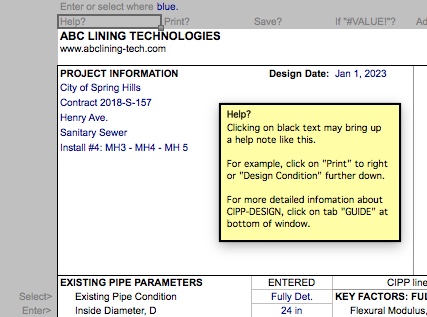 Email Trenchless Design to order or obtain further information.
Download NASTT No-Dig 2008 paper on F1216 design method changes - F1216-07a versus F1216-07b and later versions.

TRENCHLESS DESIGN